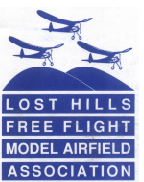 Lost Hills Free Flight Model Airfield Association
Send in your contest flyers and they will be posted on the site!
E-mail them to jriese@hotmail.com or go to Contact Information and mail them via USPS.
Please select from the following links
Maps, General information, Contact information, Membership,
LATEST UPDATE 1-20-2017 What was changed?